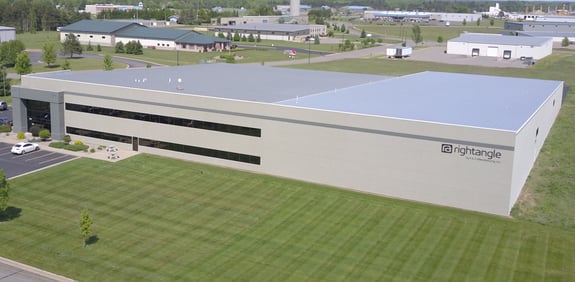 ABOUT US
Welcome to RightAngle™ Products, where it is our mission to provide high-quality office products, innovative workplace solutions, and great service.
OUR STORY
K&A Manufacturing, d.b.a. RightAngle™ Products is a family owned office furniture manufacturing company started by father and son, Warren and Bill Knighton in 1985 in Wausau, WI.
At that time, the Knighton duo recognized that many people were suffering from Carpal Tunnel Syndrome, especially those who frequently typed on a keyboard. This inspired them to create a wrist support designed to keep a user's wrists at the "right angle." Then, the RightAngle™ brand was born.
Just five years later, Warren and Bill bought a 20,000 square foot manufacturing plant in Wausau. That expansion enabled RightAngle™ to expand their product offerings into the world of office and school furniture.
Bill later became sole owner of K&A Manufacturing. As the demand for thoughtfully designed, quality furniture increased, Knighton challenged himself to develop creative workplace solutions.
As more products were introduced, RightAngle™ began to take a more hands-on approach to the manufacturing process. To do that, they needed more space, which lead to the second expansion.
In 2004, K&A Mfg / RightAngle™ Products built their new home in a 30,000 sq. ft. facility in Schofield, WI. This additional space enabled the company to take more control of the creation of their products.
More control of the manufacturing process empowered the team to increase quality, develop more unique products, and provide highly customized solutions to a variety of customers.
Once RightAngle™ Products entered into the world of height adjustable desks and tables, even more manufacturing and warehousing space was needed. In 2014, an addition was built, making the plant 60,000 sq. ft.
What is RightAngle™ up to now?
Since that time, we now produce over 75% of our products in-house at our Schofield, WI plant. Our product line has grown substatially, including:
Training Tables

Standing Desks (range of various types)

Height Adjustable Conference Tables & Executive Desks

Storage Solutions

Wire Management

Privacy screens

and many more!
Contact us
Questions about our terms and conditions? Give us a call at 800.298.4351 or click contact now.