While many office furniture projects can be completed using standard shapes and sizes, some require more custom solutions. And when I say custom, I mean projects that require odd sizes, unique shapes, crazy lifting capacities, or even the creation of an entirely new product. So, where can you go? What does the process of creating your perfect, custom standing desk look like?
In this article, we're going to walk you through the process of developing and building your custom workstation here at RightAngle Products.
While we'll specifically mention custom standing desks, this process applies to creating other custom solutions such as:
Reception desks
Executive desks
Radiology workstations
Teacher desks
Collaboration areas
Education spaces
Healthcare environments
Whether you need a unique shape, size, lifting capacity, or anything in between, RightAngle can help. Now, let's walk through how our team brings custom office solutions to life.
Custom Workstations from RightAngle: The Step by Step Process
At RightAngle, our team engineers, develops, and manufactures custom projects in-house at our Central Wisconsin factory. From the desk feet to the worksurface, we manufacture it all*. This gives us the flexibility to easily adapt our manufacturing process to each individual project.
No matter the application or level of complexity, RightAngle can bring your concept to life.
*Components such as the gear, motor, and switch are sourced from other companies.
Step 1: Discuss concept & project needs / requirements.
For the first step, someone from RightAngle will talk with you about your project. We'll walk through your initial concept and any specific needs or requirements you might have.
This is your opportunity to show us any ideas or drawings you might have, as well. We'll even work from a rough sketch drawn on a napkin.
Step 2: Create 2D Line Drawing + Generate a Quote
In step 2, our engineers will take a that sketch or concept to create a 2D line drawing of the workstation's configuration. This helps identify the required number of columns, the correct feet length, and many other components to achieve a stable workstation.
Below is an example of how the RightAngle Engineering team have taken a sketch and turned it into a usable engineering drawing.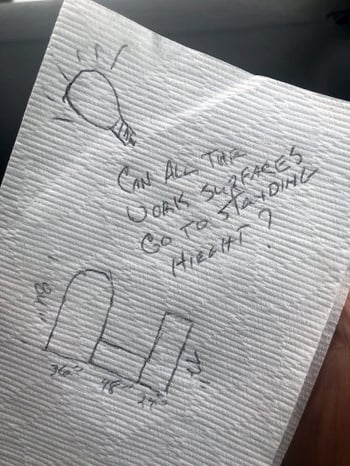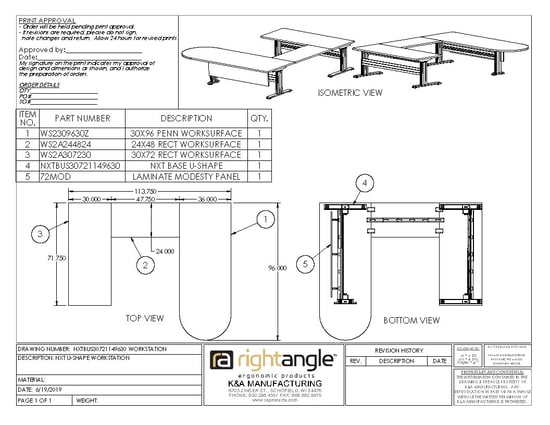 2D line drawing from the RA Engineering Department taken from the napkin sketch
Step 3: Send 2D Drawing and Quote for Approval
Then, that drawing and an official quote will be sent to you for approval. This is your opportunity to look over the project and request any additional changes.
As soon as the drawing and quote are approved and the purchase order has been received, your project will begin production!
Step 4: Your Custom Desk Goes Into Production
We manufacture and assemble your entire custom workstation--everything from the feet to the work surface. The only exceptions being the gears and motors (sourced from Ketterer).
What is the lead time on a custom standing desk?
The lead time for a custom workstation typically takes anywhere between 3 to 6 weeks. The RA team will be able to give you a more accurate time frame once we begin working on the project with you.
Here's an example of a custom desk - radiology standing desk
Below are four images of a custom radiology standing desk from a previous RightAngle project. For this particular project, the customer wanted to use a worksurface they already had, but needed a height adjustable base. They decided to come to RightAngle.
With the top being a non-standard size, our team had to engineer a solution using our Newheights XT base that would provide functionality and stability.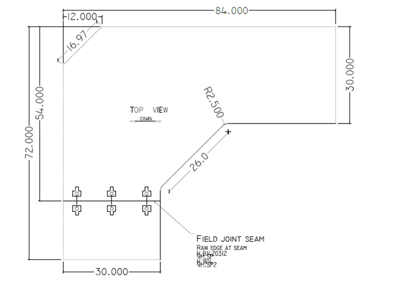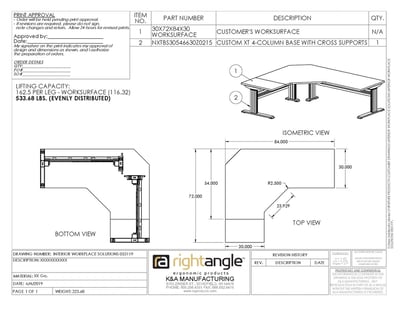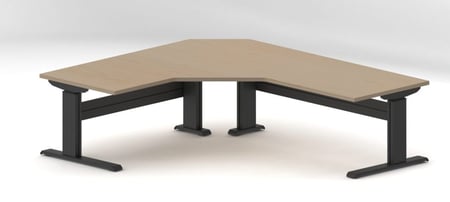 Have questions or want our help to create your perfect workstation? Visit our website or connect with us at info@raproducts.com or 800.298.4351.