Now that Safer At Home orders and other restrictions are lifting, places of business are reopening and more employees are returning to the office. Employees want to feel safe as they walk back into their office. It's up to the employers to take steps to provide a safe, healthy work environment and help prevent the spread of Covid-19.
In this article, we'll talk about 4 products that help to prevent the spread of germs and Covid-19 within your office.
1. Protective Barriers
2. Worksurfaces with Seamless Edgebanding
3. Hand Sanitizer Dispensers
4 .Touch Free Products - lights, doors, trash bins
Protective Barriers (sneeze guards, acrylic shields, room partitions, etc.)
Adding sneeze guards, desk dividers, and other types of partitions throughout the office is one of the best ways to prevent the spread of Covid-19 between employees. The barriers help to stop the water droplets from an infected person's cough or sneeze from transferring to another individual.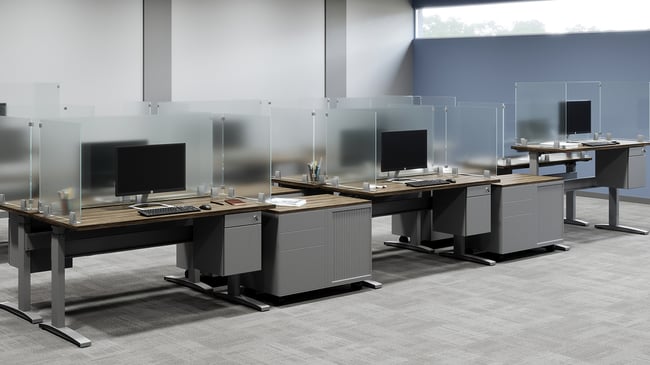 There are many ways barriers can be utilized throughout the office:
Separate workstations
Enclose collaboration areas
Create individual private work areas
Add more separation between receptionists and incoming customers
Divide rooms
Add additional privacy (depending on type of material used)
Reduce noise


Protective screens and sneeze guards are available in a variety of materials which can include:
Material
Description
Acrylic
- A lightweight, transparent thermoplastic
- Available in a variety of color and finish options.
- Impact, scratch, and water resistant
- Tends to cost less
- Should not be exposed to intense heat or flames
Polycarbonate
- A lightweight thermoplastic
- Impact resistant and significantly stronger than acrylic
- Heat, flame, and chemical resistant
- Prone to scratches
- More translucent than transparent compared to acrylic
- Available in a variety of color and finish options
- Typically more expensive than acrylic
HDPE
- HDPE: High density polyethylene, a thermoplastic made from petroleum
- Lightweight and durable
- Impact, chemical, and water resistant
- Can withstand high temperatures
- Natural HDPE is translucent, but other colors are also available (not transparent)
- Low cost option
PET Felt
- PET: Polyethylene terephthalate, a thermoplastic polyester
- A strong, lightweight fabric
- Helps to reduce noise
- Fully recyclable
- Often used in acoustic panels
- Various color options
- Moisture and bacteria resistant
Laminate (Thermally Fused & High Pressure)
- Both types are heat, moisture, and stain resistant
- Durable
- Numerous color and finish options
Whiteboard
- Dry erase board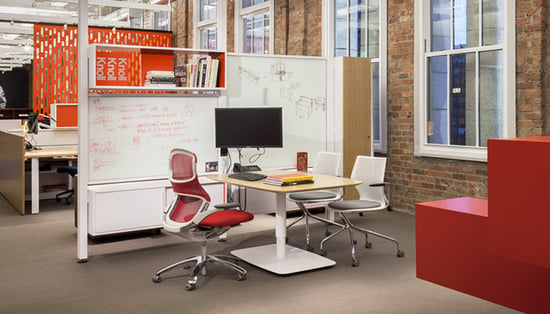 The type of protective screen you choose will mostly depend on how it's being used, where it's being placed within the office, your budget, and how easily they can be disinfected.
Laminate Worksurfaces with Seamless Edge Banding
Traditional edge banding is attached to a laminate worksurface using an adhesive. That glue line easily captures and holds onto bacteria, dirt, and moisture. It's also more prone to chipping and yellowing over time.
Fortunately, there are a couple more sanitary option you can choose. Seamless edge banding and thermofoil laminate are prone to significantly less built up of bacteria, dirt, and moisture. Both help to keep your worksurface cleaner and are much easier to regularly disinfect.
Instead of using a glue adhesive, seamless edge banding uses laser and hot air technology to fuse the edge banding and top together. Removing the glue line significantly decreases the buildup of bacteria, dirt, and moisture. Also, seamless edge banding is more durable and has a cleaner, more polished aesthetic.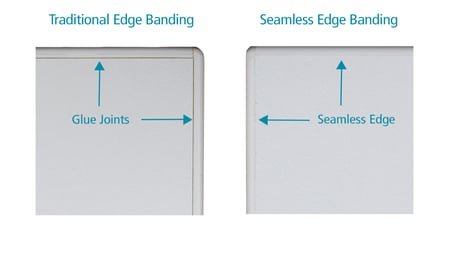 Thermofoil laminate is made by heating up and vacuum sealing synthetic material around MDF or particle board. Since the material around the board is one single piece, there are no seams, edges, or the need for any type of edge banding. The changes of bacteria, dirt, and moisture getting caught in the worksurface is significantly reduced.
Hand Sanitizer Dispensers - Wall Mounts and Stands
Providing employees with hand sanitizer and disinfecting wipes is a great way to help reduce Coronavirus transmission. It can also make your employees feel much safer when coming to work.
Installing wall-mounted or free standing sanitizer and wipe dispensers throughout the office is a great way to promote and further encourage staff to keep using those products. It can also be more cost effective than buying smaller individual hand sanitizers.
There are many varieties of dispensers to choose from: free standing, wall mount, and motion sensor.

The more you have installed around the office, the more likely employees with use the sanitizer and disinfecting wipes. Placing them in the high traffic areas will be especially effective.
Touch-Free Amenities: Lights, Doors, and Trash Bins
Another way to help prevent the spread of Covid-19 at the office is install touch-free amenities. These types of products decrease the number of touch points and limit how often employees are touching potentially infected surfaces. They are especially helpful in an office's high-traffic areas.
Three specific touch-free products include motion sensor lights, double swinging doors, and hands-free trash bins.
More traditional lights, doors, and garbage bins are frequently touched by all employees throughout the workday. By replacing them with touch-free versions to minimize the contact, we are better able to minimize the spread of germs.