Between online retailers and brick and mortar stores, it seems that just about everyone and their mothers are selling standing desks. Yes, it's incredibly important to research the type and brand of sit stand desk is best for you, but what's often forgotten about is which retailer you choose.
It's just as critical to research and pick a reputable dealer as it is a quality standing desk. It could be the difference between having long term success or wanting to pull your hair out and wasting both time and money. If you're going to invest in this type of relatively complex product, let's make sure we do it in a way that helps to maintain your sanity and, of course, your spending.
Where to Buy a Standing Desk: Top Considerations and Questions
Before you pull the trigger and order your sit stand desk, have you researched and chosen a trusted retailer? For many, the focus is on choosing the desk itself, not necessarily the store or company from which they purchase.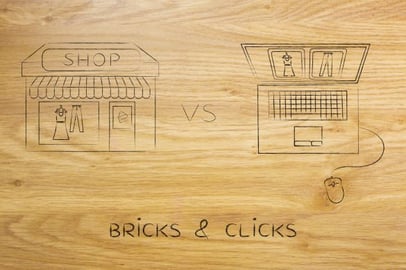 There are two general routes you can take when buying your next standing desk: buying online or buying from your local office furniture store. Shopping online can offer convenience, but you may not be aware of the benefits from choosing your local store.
You may be surprised to find that online isn't always better.
In this blog, we will discuss:
Top 8 Questions To Consider When Buying Your Standing Desk Online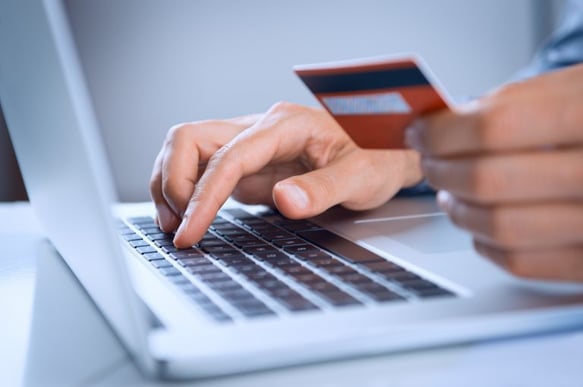 The product offerings, customer service quality, and policies differ between every online standing desk retailer, so if you're dead set on buying your height adjustable table online, here are a few things to consider:
1. Which type of online store am I purchasing my sit stand table from?
With countless online retailers to choose from, knowing which type of e-commerce store you're buying from is critical to having a positive buying experience. Every option tends to fall into one of these three categories:
Sketchy, working-out-of-their-mother's-basement Retailer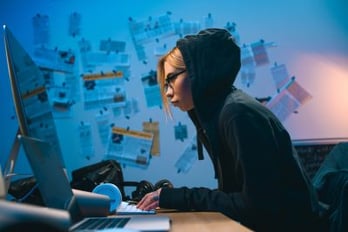 I think the name speaks for itself, but, you know, the ones that seem to randomly pop-up and appear online that show little to no contact information or business history.
As every online shopper knows, if you're going to provide payment information to a site, you first want to make sure it's reputable and trustworthy. So, dig into the site and look at the information given on the site's "About Us" or "Contact Us" pages.
If they seem to provide few contact details, no address, or give you the feeling this could be someone working in their mother's basement, you may want to seek a different online retailer. Is working with a potentially sketchy company worth saving a few bucks? Probably not.
For the next 7 considerations, I will be excluding this group since they're typically unpredictable and not trustworthy.
Mass Market Retailer
The second type of online store is mass market retailers. Some of the most notable mass market online retailers include companies like Amazon, Wayfair, Walmart, and IKEA.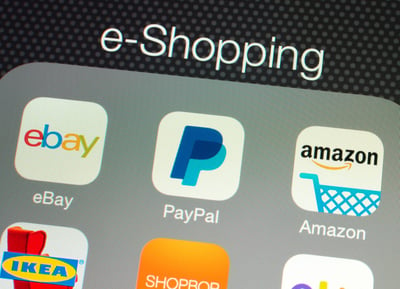 These types of online stores offer an extensive range of products to various consumers. Their size, history, and brand-recognition often make these mass market stores a go-to for online shoppers.
Because they offer such a variety of products, mass market online retailers don't typically have a focus on a specific industry or product category, such as office furniture or height adjustable tables. The buying process for your sit stand desk will be much more independent, especially when it comes to researching each desk option.
Specialized Office Furniture E-commerce Retailers
The third type of online retailers include companies that have an office furniture focus and specialize in standing desks. Some of the most recognized online stores include Fully.com, Upliftdesk.com, and BTOD.com, just to name a few.
In comparison to the other online store types, specialized retailers typically have in-depth knowledge about office furniture and a deeper understanding of the industry. BTOD.com even has direct access to the factory that manufactures the company's VertDesk.
2. Can I get desk or color samples?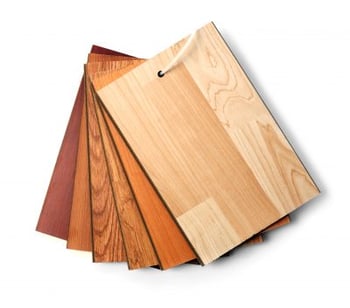 It's rare for online retailers to offer shoppers to sample an entire desk. However, color samples for the tops and base colors may be available from the specialized e-commerce retailers.
For example, Upliftdesk.com offers a sample kit of their Stock Solid Woods for $45.00 (pricing as of 5/15/19), and BTOD.com offers free laminate color samples shipped via FedEx.
You'll need to ask the online retailer directly for accurate sample availability and pricing.
3. What are the shipping costs?
Shipping costs will vary from one online store to another, so make sure to check pricing prior to purchase.
However, you will find that many of the mass market retailers offer free shipping. Pay attention though, as some free shipping offerings require a minimum purchase amount.
Many of the specialized e-commerce retailers also offer free shipping. This includes Upliftdesk.com, BTOD.com, and Fully.com.
4. What is the delivery time?
After purchase, delivery time for online stores, both mass market and specialized, is generally somewhere between 1 to 7 days.
The time frame is dependent on your location, the location of the store's nearest warehouse, and whether the product is considered standard or customized. For custom or special order products, check with your chosen retailer to find the possible extended wait time.
5. What are the return policies?
Like with shipping costs, the return policies for standing desks will differ from one online retailer to another. It may also be dependent on the desk manufacturer itself.
Often times, return policies for sit stand desks require that the product be sent back in its original packaging to receive a full refund. Custom work surfaces tend to be non-returnable items.
Be sure to research the company's return policy prior to purchase to make sure you don't run into any issues post-purchase.
6. How many desk type and color options are available?
If shopping from mass market online retailers, your standing desk options may be relatively limited. These retailers already have an extensive product inventory, so it's not often that you'll find a large variety of desk brands, shapes, sizes, or color options.
Conversely, specialized office furniture e-commerce sites are more likely to offer a greater variety of options.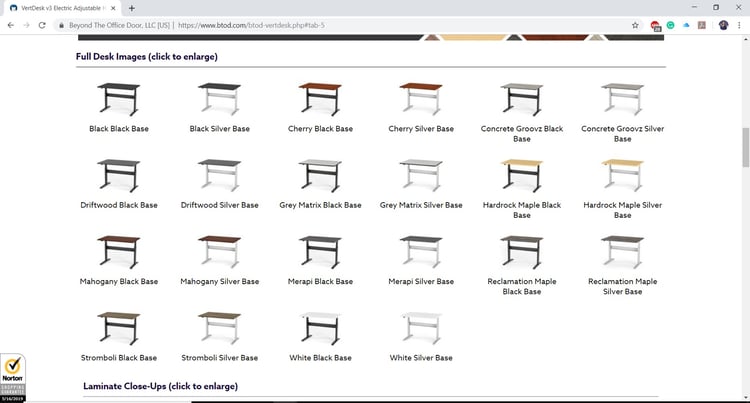 For example, Fully.com's Jarvis Laminate Standing Desk is shown to have 7 top color options and up to 6 top size options. Note that some size options may not be available for all colors, and some color and sizes may each require an additional charge ranging from $50.00 to $310.00 (pricing as of 5/15/19).
Additionally, BTOD.com's VertDesk v3 Electric Sit Stand Desk has 16 desktop size options and 22 color combination options (including desk top and base). Note that some desktop size options require an additional charge ranging from $66.00 to $414.00 (pricing as of 5/15/19).
7. Can they help me pick the best standing desk for me?
Given the nature of online buying, any conversations between you, the buyer, and the online company will be via phone, chat, email, or some other digital medium. A few online retailers can provide excellent assistance in choosing the best height adjustable desk, but most provide little or even inaccurate information to help you with the purchasing decision.
Since the mass market online stores rarely have a specific focus on height adjustable tables or office furniture in general, expect to research most of your questions on your own. Their customer support teams can often lack specific knowledge about standing desks, including their quality, differences between brands, and which one would be a good fit for you.
On the other hand, specialized e-commerce office furniture retailers are just that--specialized.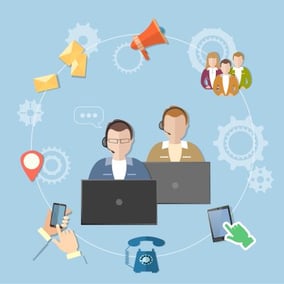 Their focus on standing desks makes them a more well-rounded knowledge hub. You're much more likely to get your specific, in-depth questions about sit stand desks answered with specialized retailers, rather than those considered to be mass market. The level of expertise and experience will vary between specialized stores, but all will do their best to help you make the best purchasing decision.
Some of the mentioned specialized online retailers have learning centers that offer helpful resources such as in-depth reviews and brand comparisons. When looking at these kinds of resources, first ensure that it's from a credible source.
8. Does the retailer assist with installation?
The ability to receive installation assistance post-purchase will vary from one online sit stand desk retailer to another.
Generally speaking, mass market online retailers are not able to directly assist in the assembly and install of your desk. However, this is not true for all.
Generally speaking, many specialized dealers are able to contract with national installation companies to help take care of your standing desk assembly. Note that this often requires a quote as pricing is heavily dependent on desk shape and size, quantity, and installation location.
Top 8 Questions to Consider When Buying a Standing Desk From Your Local Office Furniture Store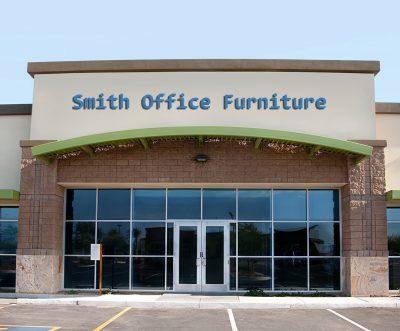 Okay, I need to settle something first--YES, brick and mortar office furniture stores still exist! I know, they're often forgotten about. And yes, buying online offers convenience, but we can't forget the unique benefits that exist with buying your next sit stand table from a local store.
So, before you make a b-line to your computer or phone to buy online, take a look at how your local dealer measures up.
Here are the top 8 questions you should consider:
1. Which type of office furniture store am I buying from?
There aren't necessarily categories for types of local office furniture store like there had been for online retailers, but I wanted to provide a disclaimer that not all stores are created equal.
It's important to look into the store's business history and feel confident that you have a quality sales person. While many sales teams may be staffed with helpful, knowledgeable individuals, there are always going to be some bad apples. So, if you get the feeling that you may benefit from receiving help from different sales associate, don't hesitate to make the request to the team.
Additionally, buying from your hometown office furniture store allows you to support the local economy and the small business owners within your community. Some stores are even involved in charities or other local organizations. Not only are you able to give back to local businesses, but you also get to build relationships with those within your own community.
That isn't something you'll be able to experience with a majority of online retailers.
2. Can I get desk or color samples?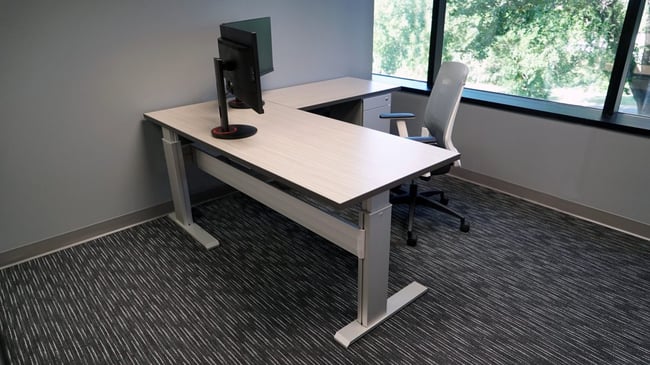 The most notable benefit of buying from your local office furniture store is getting to see, touch, and feel your standing desk options prior to purchase. Keep in mind that some stores will display more product options on their showroom floor than others.
Instead of paying and/or waiting for a sample kit of only top options, you can experience the entire desk right in the showroom. It gives you the opportunity to test the desk's level of quality and stability and determine if it's a good fit overall.
A quick tip--your local office furniture store may offer a free trial period for a standing desk. This is a great way to get a good feel for the desk and see it in your space before you even hand over your credit card. Make sure to ask your salesperson if this offer is available for you!
3. What are the delivery costs?
Delivery costs will vary from one office furniture store to another, so make sure to ask for accurate pricing prior to purchase.
The costs will depend on the delivery location, the product quantity, and if any special delivery options are required.
4. What is the delivery time?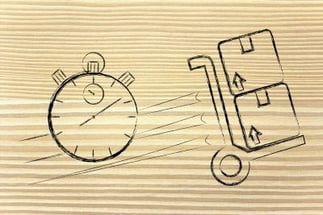 Delivery time will vary depending on the standing desk manufacturer and whether the desk is considered standard or includes any customizations (ie. specialty color, shape, size).
Be sure to ask your salesperson about your chosen desk's expected delivery lead time prior to purchase.
5. What are the return policies?
Similar to the expected delivery time, a local store's return policies will vary from one to another. Although each sit stand desk manufacturer has their own return policy, each store will also have their own, and may choose to use their discretion on what may or may not be accepted as a return.
Some stores may offer full refunds, a restocking charge, a pickup fee, or even allow you to drop it off for free. Check the store's policy prior to purchasing.
Remember, the store may allow a free trial period for a desk. I suggest taking advantage of it if available to help reduce the possibility of returns.
If you are at any time experiencing an issue with your new standing desk, contact your sales person and they can work with you to troubleshoot the problem. Since you chose a local store, they can even send someone onsite to help fix the issue.
6. How many desk type and color options are available?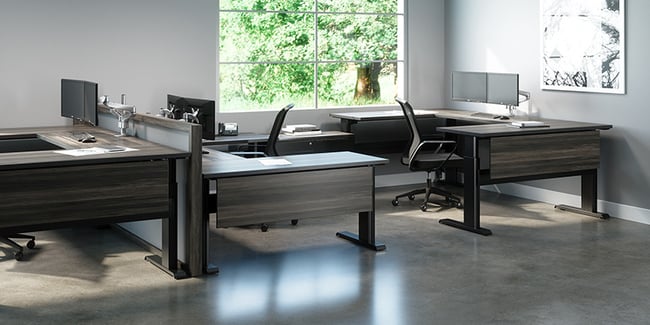 The number of sit stand desk options available to you at your local furniture store can vary. Larger stores may carry more brands or have more samples on the showroom floor, but most stores should have access to almost any options provided by the desk manufacturer.
A unique benefit to working with a physical office furniture store is the ability to get a highly customized standing desk.
If the store has a relationship with manufacturers with customization capabilities, you could order something as unique as a U-shaped desk that enables the entire work surface to move at the same time. You may even be able to pick from unlimited laminate top options (this may require an additional charge).
7. Can they help me to pick the best standing desk for me?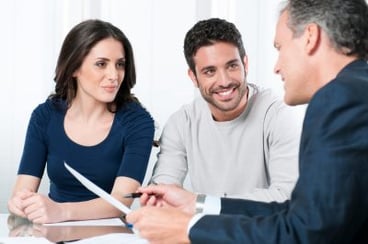 Absolutely. The role of your salesperson is to listen to your needs and requirements, answer your questions, and provide options that may be the best fit. Their in-depth product knowledge and experience aid you in yout ultimate buying decision. The level of knowledge and experience will differ between salespeople, so keep that in mind as you're working with them.
Another unique benefit to purchasing from your local office furniture store is that most have in-house designers. The designers can help you determine not only the best desk shape and color, but will also provide recommendations for the overall office design to help give you the cohesive, modern look you're after. This is especially helpful when trying to match a new product to any existing furniture within your space. Keep in mind that there may be an additional charge for this service.
Even after the sale, the best salespeople continue to offer service. Meaning, if you begin having a problem with your height adjustable desk, you can contact your salesperson directly and they can help troubleshoot the issue. They may also visit you directly to help remedy the problem.
If you and your salesperson are unable to resolve the issue on your own, the store can work directly with the manufacturer to achieve a resolution.
8. Does the store assist with installation?
Most often, each office furniture store has their own installation team or a contract with a local installer that will assemble your height adjustable desk at the specific install location. Pricing will vary depending on install location, the product quantity, and a variety of other factors.
Talk to your salesperson to receive an accurate price quote.
Final Thoughts
Selecting a reputable office furniture retailer for your next standing desk is equally as important as selecting the desk itself. Whether you're looking to spend $300 or $1,500, you're making an investment. While online shopping offers convenience, investing in a sit stand desk from your local office furniture store can offer other unique benefits. Now, consider your own preferences and needs to determine if you should purchase your new standing desk from an online retailer or a local store.