So, who is Bill Knighton?
Bill Knighton's Childhood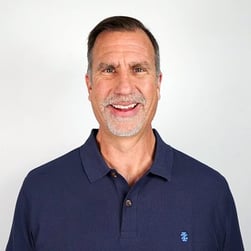 William Knighton, known to most as Bill, was born in January 1963 in Minneapolis, Minnesota to Warren and Joan Knighton. The Knighton family lived in Minneapolis until 1974 when his father decided to fulfill a dream. He had grown up in a home where his dad left a well-paying job in pursuit of starting his own business in Wisconsin with the desire of becoming own boss and in control of his destiny.
Warren and Joan moved Bill and his two sisters to Wausau, a city located in Central Wisconsin. Upon moving to Wausau, Warren and Joan purchased an existing hardware store and renamed it Knighton Hardware. They told Bill that they would pay him 50¢ an hour if he wanted to work at the store, so at the young age of 11, Bill began working for the family business.
Work Experience
Working at Knighton Hardware was his first job, and his experiences there helped him grow as (very) young professional. One of the early skills he learned was how to listen and communicate effectively. Often, customers came into the store looking to fix a broken part but didn't know what the part was called, let alone how to fix it. That forced Bill to become curious by nature, making sure to ask the right question and uncover just how to fulfill the needs of his customers.
After determining what customers needed, he had to explain how to go about fixing their broken part or how to use a specific tool. It not only required product knowledge but also knowing how to adapt his communication style to that of the customer and patience.
Those conversations with customers helped Bill to understand that listening and communication are two of the most important skills used in business.
Even before working at the hardware, Bill had an interest in engineering. When he was eight years old, he and his father built a mini-bike, and that was just the beginning. Working at the family business gave him the opportunity to work with more mechanical parts and pieces. Bill would take different objects apart, learn how it worked, then put it back together. He was born with a mechanical mind, and the exposure to problem-solving for customers fostered it during his time at Knighton Hardware.
Beyond learning how to think critically, Bill also learned he possessed strengths used in future jobs. He explained,
"I realized I liked working with people and I felt I could sell. People seemed to relate to me, and I was able to help people express what they needed."
After his time at the store, Bill worked in a factory. After quickly learning it wasn't a path he wanted to pursue, Bill and his father began selling glare-reduction computer screens manufactured by a California company called Sun-Flex.
I wore the sports coat I had gotten for high school graduation every day for my first three months of selling. I wore it so much that the material wore out.
After three months of little income, Bill worked at a second job to make ends meet. Soon, he started having financial success by selling Sun-Flex's product.
RightAngle Products
Understanding the importance of diversification, Bill and Warren looked to expand the products he was selling. The exposure to his father's true entrepreneurial spirit at a young age propelled Bill to start RightAngle Products with his father.
Most people need to know how much they are making every two weeks when they get their paycheck. It takes a special kind of person to take the risk of not always knowing whether or not you'll even get a paycheck. My dad helped show me that I didn't need to be afraid of starting my own business and working for myself.
The company had humble beginnings with the Knighton duo first making their products in Bill's garage. Their first product was a static dissipated wrist support and many other products soon followed. RightAngle now produces a variety of ergonomic office products, furniture, adjustable height furniture, and other office accessories.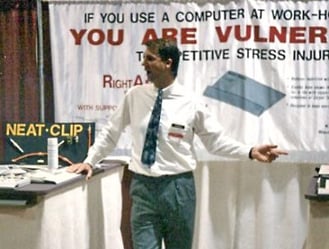 Bill consulted with numerous ergonomists and worked with them over the years to design and manufacture genuinely ergonomic products.
Bill had the desire to have more control over the manufacturing and quality of his products. To do so, he re-invested heavily in equipment allowing the company to manufacture a significant majority of their products. Introducing vertical integration within the factory helps ensure customers are purchasing high-quality, user-friendly, and ergonomic office solutions from RightAngle.
Beyond the Products
Bill has a hands-on approach when it comes to running his business and creating products. He works closely with the engineering and manufacturing departments during product development. Bill recognizes that every single employee positively contributes to the success of RightAngle. With the help of his dedicated employees, vendors, reps, and dealers, RightAngle has been able to grow and expand continually.
Loyalty and integrity are two of RightAngle's most essential values. Not only is Bill loyal to his employees, vendors, reps, and dealers, but he is also loyal to his customers by selling quality U.S. made products. Bill's wife, Beth, describes her husband:
Bill's greatest strength is his integrity. If he can do something, he will get it done, and if he can't, he'll be honest and admit it. If he promises something, he'll deliver. There is honesty within the products he makes, materials he uses, and the component products that he sources.
RA Answers
Recently, Bill decided to start a company blog that is named RA Answers. You may ask, why start blogging? The answer is simple; Bill wants to share his 33 years of experience and knowledge to help customers make informed purchasing decisions. Products within the office furniture industry become quite complicated and knowing what to look for can be difficult.
My goal is to help teach my readers about the types of office products on the market, how they work, and what to look for when purchasing.
Bill has even described himself as a, "walking encyclopedia of ergonomic products." Some of his blog posts include "Top 3 Reasons for Standing Desk WOBBLE" and "Sit Stand Desktop Converters vs. Complete Standing Desk."