As we all attempt to go back to "normal" life since the outbreak of COVID-19, business are looking for ways to protect both their employees and customers. One of the most popular ways is by installing types of sneeze guards, acrylic shields, and other protective barriers.
But, with so many options available, how do you know if you're choosing the best one?
We've created a list of seven questions to help you with just that.
In this article, we'll walk you through the top 7 questions to ask yourself before jumping into a purchase for acrylic screens, sneeze guards, and other barrier options. Jot down your answers to each question ask you go through the article to make your search more efficient and effective.
Looking for acrylic sneeze guards or other protective shields? Answer these 7 questions before you buy.
What are the material options for protective shields?
Application - How will the acrylic shields be used?
What size should they be?
What are my finish options for acrylic panels?
Which mounting brackets can I choose from?
Can I get custom panels? How? (Custom size, cutout, or pass-through)
What is the lead time?
What kind of protective barriers can I buy? (Material options)
Protective screens and sneeze guards are available in a variety of materials which can include:
Acrylic
Polycarbonate
HDPE
PET Felt
Laminate
Whiteboard
To keep things simple, we are going to focus on the three most popular types: acrylic, polycarbonate, and PET felt.
Material
Description
Acrylic
- A lightweight, transparent thermoplastic
- Available in a variety of color and finish options.
- Impact, scratch, and water resistant
- Tends to cost less
- Should not be exposed to intense heat or flames
Polycarbonate
- A lightweight thermoplastic
- Impact resistant and significantly stronger than acrylic
- Heat, flame, and chemical resistant
- Prone to scratches
- More translucent than transparent compared to acrylic
- Available in a variety of color and finish options
- Typically more expensive than acrylic
PET Felt
- PET: Polyethylene terephthalate, a thermoplastic polyester
- A strong, lightweight fabric
- Helps to reduce noise
- Fully recyclable
- Often used in acoustic panels
- Various color options
- Moisture and bacteria resistant
How will I be using / where am I installing sneeze guards?
The first things you need to consider is how will you be using the privacy screens and where will they be installed.
Are they being used to divide workstations? For a reception desk? To create a barrier between a staff member and customer?
Until you know how the barriers will be used and where they're being placed, you won't be able to outline the other requirements (panel size, mounting system, customizations, etc.).
What size should sneeze guards be?
Protective barriers are installed to help prevent the spread of germs and bacteria. If they're too short or narrow, they become less effective, so it's important that you buy the proper shield size.
The best size for your sneeze guards or partitions is dependent on how you're using them and their placement (previous question).
First, let's determine the height. For most applications, panels measuring 24" to 30" tall is sufficient. Those are generally standard sizes offered by suppliers.
To find the best width for the panel, measure the width of the are where the panel will be mounted. For example, if they're going to be installed on three sides of a desk for separation, measure the depth of the worksurface and its width.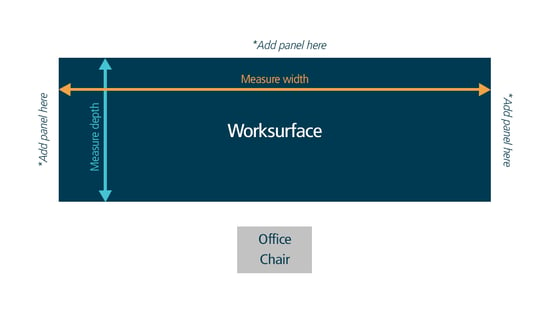 Many panel suppliers and manufacturers offer standard widths which can include: 24", 30", 36", 42", 48", 60", 66", and 72" wide. Those widths will work for a majority of applications.
If you're needing more custom panel sizes, you will have to connect with a manufacturer or supplier that has customization capabilities.
What are the finish options?
There are a variety of finish options when it comes to plastic and felt protective screens.
Acrylic and Polycarbonate Shields
Both acrylic and polycarbonate can be found in variety of colors. However, you'll find that a majority of plastic shields available clear or has an added texture (such as frosted).
At RightAngle, a majority of our customers are requesting clear. This way, staff can still see each other and it makes it possible for conversation and collaboration.
If you are wanting clear plastic sneeze guards, keep in mind that polycarbonate is not as clear in comparison to acrylic. It's a bit more translucent than transparent.
PET Felt Panels
PET felt is an opaque fabric also available in a wide range of colors. You'll find them in neutral to pastel to traditional bright colors. Availability and offering of colors will depend on the individual supplier and retailer.
How can I mount sneeze guards / protective barriers?
There are many ways you can mount your acrylic, polycarbonate, and PET felt shields. This list includes:
Free standing mount
Surface mount (attached with either adhesive or screws)
Clamp mount
Cubicle / partition mount
Hanging
Corner clips (if using more than one panel)
No mount - panels interlock or fold to support itself
These options are typically made of either plastic or metal. There are also many different styles for each mount type. It would be impossible to show you all of the variations, but here are a few of the more popular ones.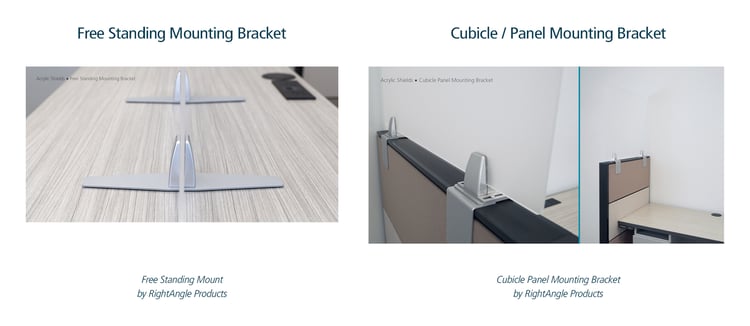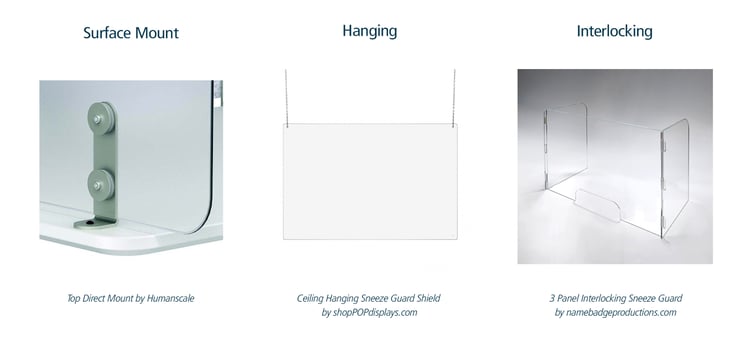 So, which sneeze guard mount is the best option?
There are a few questions you need to answer to find out.
What type of surface will it be on? (Desk worksurface, on top of a cubicle, etc.)
Does the sneeze guard need to be portable?
How much am I willing to spend?
Question #1
If the sneeze guard is being attached to a desk or table, your mounting options are: free standing, surface mount, clamp mount, corner clips, or no mount.
Adding the barrier to the top of your existing cubicle wall or partition? Choose the cubicle mount. Depending on the surface of the top of your partition (like smooth plastic or metal), you may be able to also use a surface mount that attaches using adhesive.
If you don't want to attache the panel directly to the desk, choose a hanging mount.
Question #2
If you're need the protective shields to be portable, you can choose from: free standing mounts, corner clips, or no mounts. All three of those options do not attach directly to your worksurface.
Question #3
It's a bit difficult to pin down a single price for each mounting options. However, mounts made of plastic tend to be less expensive than metal.
Price will also vary on the design you want for your mount. Generally speaking, mounts that are smaller in size cost less than ones that are larger and more extravagant.
Do I need custom sneeze guards? (Size, cutout, or pass-through)
Next, you need to determine if your project will require any customizations. Common customizations include special sizes, shapes, or the addition of cutouts or pass-throughs.
If you're only needing a customization, such as a cutout, on a few individual panels, I suggest contacting a local plastics company. They are more likely to take on the project than a larger manufacturer or supplier. It may also be more cost effective.
Larger, U.S. based manufacturers and suppliers will also offer customizations, but they typically require a volume minimum. At RightAngle, for example, we will accept custom projects if it consists of at least 25 acrylic sneeze guards.
What is the lead time?
Lastly, it's important to ask your supplier or manufacturer the approximate lead time for any acrylic, polycarbonate, or PET felt protective shield.
Currently, lead times for many suppliers range from 3 weeks to 15 weeks.
Sneeze guards and other protective shields are in high demand right now, so many suppliers and manufacturers have low or no current stock. It's also becoming more common for a manufacturer's inventory be spoken for before the raw materials even arrive to their factory. So, if you're wanting to purchase from a particular supplier, I suggest placing your order right away to get your name in the queue.
It's important to note that many manufacturers and suppliers do not list lead times directly on their website because it frequently fluctuates. You will have to contact them directly.