Our WobbleMeter stability tests feature the new HON® Coordinate™ height adjustable base.

Click here to view testing on the legacy HON Coordinate standing desk base.
WobbleMeter Testing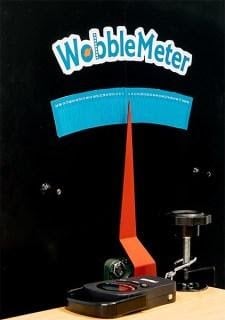 Our stability tests using the WobbleMeter measures the wobble of a standing desk.
Using the same methods against the same scale for a variety of desks, we compare results from a variety of standing desks manufacturers.
We share our results on the Scoreboard page. Similar to golf, the lower the score, the better.
Smaller totals mean there isn't much wobble in the standing desk.
Click this link for an in-depth explanation of how RightAngle performs WobbleMeter tests.
Overview: the New Hon Coordinate
Although HON updated their height adjustable Coordinate base, their description hasn't changed:
Achieve the exact worksurface height you desire with HON Coordinate Height Adjustable Base. Supporting the increasing popularity of sit-to-stand workstations and tables is becoming a crucial element of today's organizations. HON Coordinate Height Adjustable Base automatically adjusts to the desired height without putting strain on the user. The base includes a motor-activated lift that attaches to any HON worksurface between 48″W and 72″W, putting the user in the control of their environment.
Specifications
Standard controller with table base creates full sit-to-stand capability
Leg design includes a pre-assembled motor
78″ cord provides easy access to floor or wall outlets
Adjustable columns are 14-gauge precision steel tube for strength and durability
Height range: 23-5/8-inches to 49-1/4-inches
Static load capacity is 353 pounds
Dynamic load of 300 pounds
Silver finish matches any neutral HON paint or finish color
Accommodates HON worksurface sizes ranging from 24″-30″ D and 48″-72″W
NOTE: In the near future, RA Answers will be testing the listed specifications given by each sit to stand desk manufacturer. Our goal is to verify the data provided for accuracy.
Test Results
Here are our results of the new HON Coordinate, starting with the True Wobble Test.
Special Note: RA Answers tests only the relative wobble of a height adjustable desk. We display the results using a gauge with three color-coded ranges. These ranges show our opinion of what is an acceptable wobble. With nearly two decades of desk manufacturing behind us, we feel comfortable with expressing our opinion.
True Wobble Test
The True Wobble Test is a hands-on wobble test where we place 50-pounds on the desk to simulate the weight of a monitor, keyboard, and other accessories. Using a small amount of force, we move the desk slightly to see the amount of wobble illustrated by the WobbleMeter.
Directional Pulls
Here are our results for the WobbleMeter directional pulls.
46-inch Standing Height Tests


[supsystic-tables id=15]

30-inch Sitting Height Tests


[supsystic-tables id=13]

Scoreboard
Click here to compare the results of the standing desks we've tested.
Conclusion
Based on our opinion, the new HON Coordinate falls within the same results of all standing desks: it's much more stable at lower heights.
However, we believe this version of the Coordinate isn't nearly as stable as the legacy version.