The decision to switch from a tradition workstation to a height adjustable desk may be quite straightforward.
However, choosing among the many sit to stand options takes a bit more time.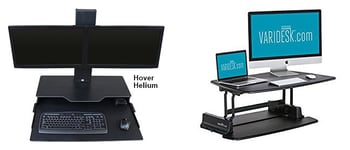 With numerous height adjustable products on the market, I'll compare the two general styles popular among consumers: desktop converters and complete sit to stand workstations.
We'll take a look at the pros and cons of both styles.
Our goal is helping you choose the product that best suits your needs and office situation.
Desktop Converters
A desktop converter is a sit to stand product resting directly on top of your existing workstation. There are two general methods of operation for sit stand converters: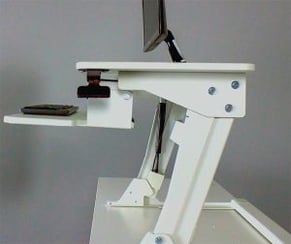 A gas, or spring, assists the keyboard mouse tray area and the monitor ride on a column.
The converter operates like an ironing board, and the converter has multiple hinge points using uses gas or spring assist
We discuss the pros and cons of these two desk-converter styles in a different article. Today, we'll explore the general pros and cons of all desk converters.
General Pros and Cons of Desk Converters
Pros
Keep Your Existing Desk: Keeping your current desk is the primary benefit of using a desktop converter. There are many reasons why people choose to keep their current desk, including:
They don't have time to reorganize everything in their office
There isn't time to research and make an informed decision
There isn't enough office space to fit a new desk
Some people don't want that big of a change
People are happy with the look and fit of their current desk
Some offices won't allow their employees changing to adjustable height desks, but allow a desk converter.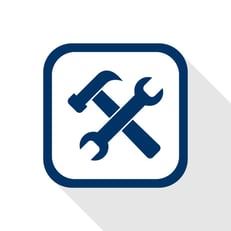 Little to No Assembly: a desktop converter requires little to no assembly and is ready to go in minutes. Take the converter out of the box, set it on your desk, and place your computer, keyboard, mouse, and monitor. Your converter is all set to go.
Lower Cost: There is a wide range of prices available for desktop converters; as little as $199 or up to $800. You save hundreds of dollars compared to the purchase of a complete workstation.
Small Space: If your work surface width is 36 inches or less, a desktop converter is the best and most cost-effective option compared to a complete standing workstation. However, the converter doesn't provide you with an ergonomic keying height.
Cons
Ergonomics: Ergonomic benefits are difficult to address using a desktop product. There are a couple of converter products that have some benefits attributed to the keyboard height position, but the trade-off is a bouncy keyboard platform.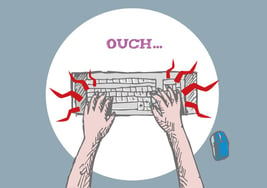 The problem starts with a desk sitting 29 to 30 inches high; already too high for achieving any ergonomic benefits. Raising your chair and using a footstool improves the ergonomics.
The second issue is the monitor position. Many converters don't include mounts for monitors, and you need to use the existing stands initially included when you bought your monitor. Not having a mount means the monitor cannot be adjusted for height and is too low to be ergonomically correct. Some tabletop versions have VESA-compliant mounts with height adjustment, but any units with these capabilities are in the mid to higher price range.
Space: desktop styles provide the user with limited space. Limited space means leaving some of your commonly used items on the existing desk platform, 12 to 16 inches below. As a result, bending down becomes a requirement.
Wire Management: desk converters often don't have wire management systems aiding cable organization. Because your computer moves along with the converter, all wiring moves with it. All those moving wires become a hassle if not appropriately managed.
Complete Sit to Stand Workstations
Now, let's evaluate the sit stand workstation or height adjustable desk. As with the converters, there is a myriad of choices, so we'll keep it simple and discuss an electric sit to stand desk providing 20 inches of travel with a simple up and down button activating the workstation.
Pros
Space: even if you keep it small, say a 30 × 60-inch work surface, you bring what I call your "whole world" up when you switch to a standing position.
This means no reaching down for the phone, a calculator, files, or anything else. For me, I think this is one of the most significant payoffs of a standing desk.
Custom Work Surface: You can get practically any size or shape for a height adjustable workstation desktop. There are, however, a few limitations.
Ergonomics: ergonomic benefits are easier to identify with a complete standing desk. With a height adjustable base, you have more travel range to bring the keyboard down to at least 27 inches and up to 47 inches.
You also need to add accessories, such as an ergonomic keyboard system that achieves a negative tilt for the keyboard and mouse. Another option is adding a monitor arm, leaving your screen at the correct height. Using a monitor arm frees up even more space on your desk.
Cost: prices have come down on complete sit stand workstation. You spend around $650 for a product built in the USA, delivered directly to you, has 20 inches of travel range, a 250-pound lifting capacity, and over 1-1/2 inches travel per second. However, this is still is more expensive compared to the least costly desktop converters on the market.
Stability: if you purchase a standing base with lower cross support, you have a rock-solid workstation.
Cons
Assembly: a complete workstation assembly takes up to an hour. If you load it up with accessories, plan to add another hour, plus more time, for wire management.
Disposal: finding a new home for your desk isn't an easy task, especially if you live in the downtown area of a city.
Travel Speed: electric standing desks are never as fast as a sit stand desk converter. With travel speeds of 1 to 1-1/2 inches per second, switching takes 10 to 15 seconds changing from sitting to standing. A desktop converter takes one or two seconds.
Recommendation
There is no clear winner when comparing a desktop sit stand converter to a standing desk workstation. The best is entirely dependent on your needs and preferences.
A desk converter may be best suited for somebody spending most of their time using the computer and doesn't frequently use materials left on the stationary portion of the desktop.
However, an adjustable height desk is the best option for somebody requiring quick and easy access to the office equipment near them.