With so many options out there, which one is best?
Why choose RightAngle's product?
This article is meant to take a look at the RA Bonita ET so you can see why it is a step above other cost-effective height adjustable tables.
Our engineering team developed the Bonita standing desk providing the well-known RightAngle quality at a lower price point.
The components making up the Bonita places this standing desk apart from the numerous adjustable height desks.
After an overview of the Bonita, we'll talk about the following parts of the table:
Gear system
Motor
Column Glides
Control Box
Leg Columns
Welds
Cross Support
Adjustable Glides
Bonita Overview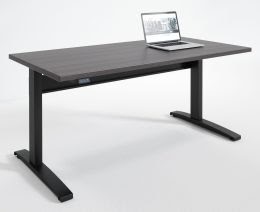 The Bonita ET is an electric standing desk that quickly and quietly moves from a sitting to a standing position by the simple push of a button.
It travels 20 inches, moving from a 27-inch height to 47 inches.
When adjusting the height, the Bonita travels at 1.5 inches per second. Additionally, the two-leg base has a total lifting capacity of 250 pounds while equipped with anti-wobble cross support.
Bonita Quality Components
Gear System
One of the most significant concerns people have when purchasing a height adjustable desk, especially a low-cost one, is reliability.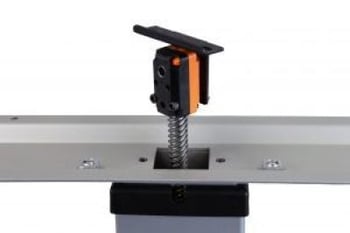 Rest easy when buying the Bonita.
The desk includes a Ketterer bevel gear having a housing made of reinforced glass-fiber, case hardened toothed wheel of steel and reinforced teeth.
A roll-formed spindle achieves a high-quality top surface and thread. This smooth surface makes the movement efficient and smooth, similar to that of a ball screw spindle.
Simply put, the Ketterer gear system is strong and durable for years of wear and tear.
RightAngle has had a relationship with Ketterer for over 12 years with great success over several gearing products.
We knew quality relies on reliable gear systems, regardless if it's for a lower cost desk.
Motor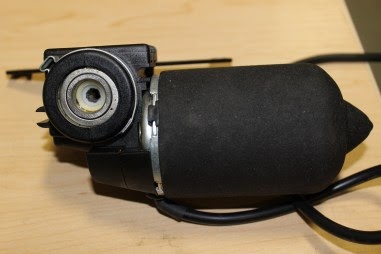 Ketterer also produces the motor drive installed on the Bonita.
This motor is a hollow shaft (hex) gear motor fitted with a worm wheel.
The worm wheel is made out of Delrin® by DuPont™ (acetal), which is hard, durable plastic.
The gearmotor has an idle speed of 115 RPM and maximum drive torque of 5 Nm. The larger motor size enables quicker desk movement compared to some of the other low-cost standing desks.
Column Glides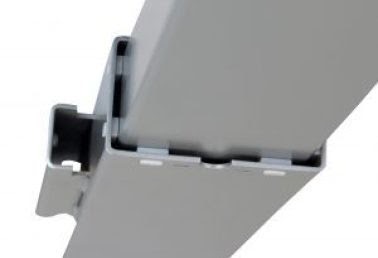 All height adjustable tables have some glide system between the leg columns.
These are glides located between the two leg columns when you change the height of the table, the inner column moves, which allows it to travel smoothly in or out of the outer column.
The Bonita leg columns fit with acetal glide, made from acetal resin, making them low friction.
Why is this important?
Low friction glides help increase the lifting capacity of the table because the column legs move quickly rather than fighting against the resistance between the columns.
Low friction equates to little wear extending the useful life of the glides. Since the Bonita uses acetal resin glides, the leg columns withstand years of use.
There are a total of eight acetal glides on the outer and four on the inner leg column.
Locating the eight glides is simple; look on the outer leg column slide against the painted inner leg column.
The painted steel provides little friction. There isn't need to add extra lubrication to the outer column glides, and the glides experience a relatively minimal amount of wear.
However, the four acetal glides located on the inner leg column do slide against the unpainted steel. The hard surface creates higher friction leading to premature wear. However, the glides installed on the inner leg column are lubricated to prevent such wear.
Control Box
The control box is another crucial component of the Bonita.
LogicData, a company widely recognized for producing quality, manufactures each control box for RightAngle.
The control box we've chosen to use has a low-profile design.
On standby, .3 watts is what the LogicData box uses.
Putting that in perspective, a traditional single mini-light, like one found on a string of Christmas lights, pulls a total of 1 Watt of energy.
So, in sum, the control box is highly energy-efficient.
LogicData manufactures this product in Europe and is another vendor that we've had a relationship with for several years.
Tubes/Leg Columns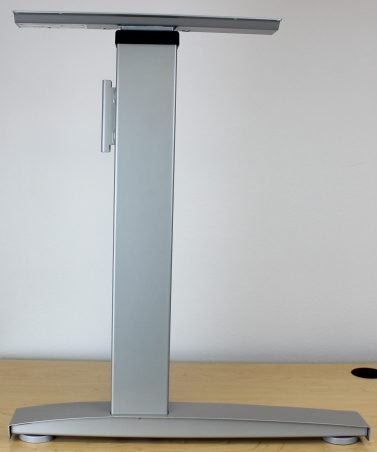 If you are at all familiar with RightAngle Products, you know our standard table legs are aluminum.
We source aluminum extrusions from a local vendor in central Wisconsin and machine them in-house at our Schofield manufacturing plant.
Using aluminum extrusions increases our costs. For RightAngle to be cost-competitive, the leg columns and foot assembly for the Bonita are steel rather than aluminum.
We use aluminum rather than steel because it has a sleeker look. However, steel is by no means lesser in quality.
If the steel columns are all fitted with the same sized glides, there is a higher possibility of instability within the entire leg column.
Each Bonita column is custom fitted with differently sized acetal glides because the column tubes vary in sizes.
Using the same size glides in all steel columns increases the chance of an unstable leg column. The customized glides within the Bonita columns eliminates this possibility.
Welds

Correctly welding the desk leg metal components determines the sturdiness of the height adjustable table.
The Bonita has heavy welds, making sure it's sturdy and durable.
Most of the other inexpensive desks use tack welds that don't provide the level of strength needed for a long-lasting standing desk.
The pictures above show the difference between the full weld used by RightAngle and tack welds used by our competitors.
Cross Support
The use of a crossbar design significantly helps eliminate table instability.
Many economically-priced standing desks don't include cross supports, keeping costs low. Not providing support creates issues for the end user once using the desk.
No cross support equals poor desk stability. Imagine the difficulty of working on a desk that wobbles.
Including a cross brace attached to the lower leg columns, Bonita solves this problem.
Adjustable Glides
Glides are standard for all standing desks on the bottom of their feet. Each foot has two glides, front and back, and because they're adjustable leveling, the desk becomes easy.
NOTE: The Bonita's included glides allow for an inch of travel. Not every height adjustable table with glides have that large of travel.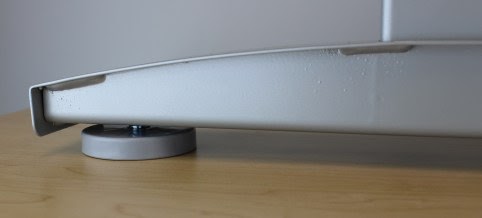 Bonita ET Standing Desk Assembly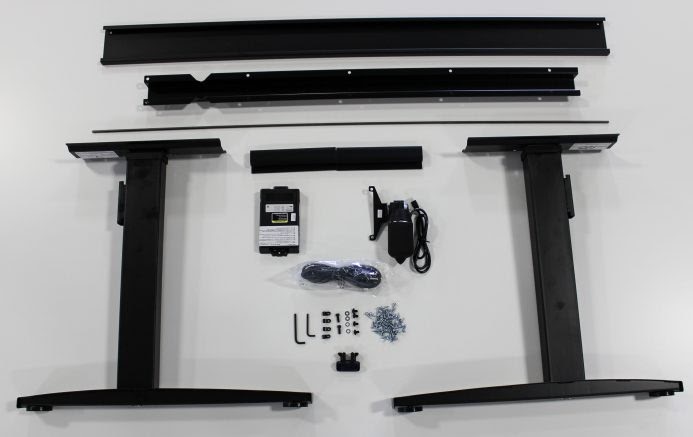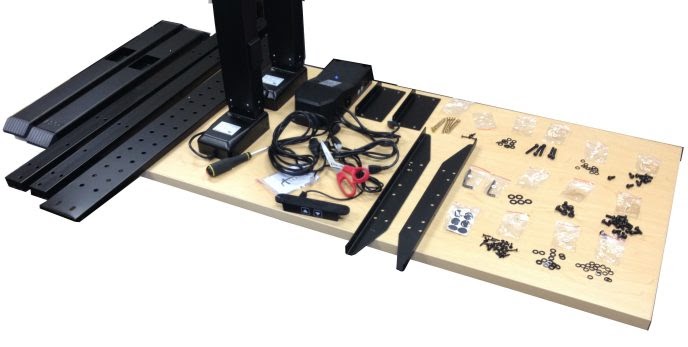 If you take a peek at the list of Bonita's assembly parts then compare it to its competitors, you'll notice the marked difference in the number of components.
It's reasonable allowing a given assembly time for all standing desks. There are, however, variations to consider.
For example, some low-cost standing desks require assembly of the entire leg components. On the other hand, the Bonita ships its legs pre-assembled.
Quantity of Assembly Parts
Before buying a standing desk, take a peek at the number of bolts required for assembly.
It's obvious, but the more bolts needed, the longer the desk assembly process. Besides, the more fastened bolts effects desk stability.
Why?
Securely fastened screws and bolts are one critical component for proper desk stability.
The more bolts and screws needed for assembly, the more likely some are too loose.
Loose lips may sink ships, but loose bolts and screws lead to table instability and wobble.
Overall, it's best for the customer if the desk has a minimal amount of assembly; not only for convenience but to make sure each component is put together correctly and securely.
Ultimately, the less assembly required, the happier the end user; assuming a correct assembly process.
This video illustrates the Bonita LT Standing Desk assembly.
Bonita Assembly Note: The steel screws located below the motor are for the work surface attachment. The included 42 wood screws for assembly, but not all are used. RightAngle packs extra wood screws.
Price
When purchasing office furniture, many buyers look at the list price and immediately get scared off because of the high prices.
But, and this is important, the price you see isn't the price you pay!
There's no guarantee exactly how much less a buyer pays because each of our dealers uses different levels of discounts.
50% off the list price is generally the rule of thumb regarding standing desk pricing. Different RightAngle dealers enjoy various discounts.
Pricing the Bonita Standing Desk
For illustrative purposes, let's look at pricing a Bonita LT.
The list price of a Bonita with a standard base and a 24 × 36 × 24 work surface is $1,315. Applying 50% off the list price, the Bonita costs about $657.50.
That's not an exact price, just an example. These numbers are examples only.
To be honest and fair, there are electric standing desks available for less money. However, when purchasing one of those economically-priced desks, keep in mind that sometimes you get what you pay for.
Competitors of the Bonita often use lower quality components to keep their pricing low, but it results in a less reliable, smaller quality desk.
Before purchasing an height adjustable desk regardless of price, do your research, so you know exactly what you're spending your money on.
There's nothing worse than spending a lot of money on a product that doesn't provide the level of quality or benefits that you expect and deserve.
Wrap-up
When it comes to our height adjustable desks, low price and high quality are not mutually exclusive. Our Bonita provides an excellent example of that.
Our team wants to give you insight into what you're getting when purchasing our Bonita.
We use components from trusted manufacturing partners and engineered a product exceeding the RightAngle standard of excellence.