Radiology workstations have become increasingly popular because they include more tools and run faster. The best fitting workflow is the most important asset to a radiology department.
A key contributor to an effective workflow is choosing the right radiology workstation for you and your team's needs.
Larger work volume, fewer available radiologists, and the need for remote and enterprise-wide access is changing the landscape of radiology reading. The ideal radiology and PAC workstation should accommodate:
Simpler workflow, clearer communication, and more intuitive tools
Accommodate longer work hours for radiologists – need to be ergonomic
Multiple monitors to interpret and review images



Which Radiology or PAC Workstation is best for me?
The one-size-fits-all approach to radiology workstations no longer suits the radiologist's needs. When looking for a radiology workstation, there are various factors to consider.
In this article, we're going to walk through the more important topics you should consider before buying a radiology or PAC workstation:
Type of Radiology / PAC Desk
Type of Worksurface
Cable Management
Additional Desk Accessories
Radiology & PAC Desk Options
Wall Mount -
$
The wall mount is for a limited number of displays and one of the least expensive options to consider. The wall mount can be height adjustable with options such as a keyboard/mouse area, CPU storage, monitor rotation, dual monitor configuration, and extension arms.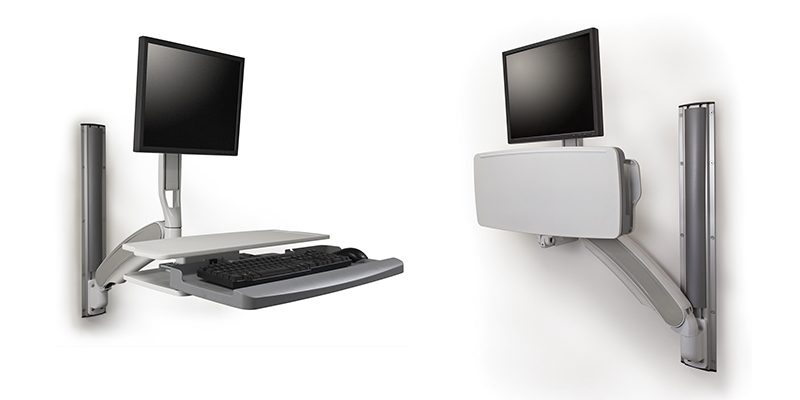 Advantages: easy to install, compact, less costly, adjustable, takes up less space
Disadvantages: not able to accommodate a large number of monitors, limited storage capacity, limited accessory options
---
Medical Computer Cart -
$
Mobility is the medical computer cart's main feature. The cart can be small enough to fit in tight space, may include a keyboard tray area, a power strip, a CPU cradle, and monitor mounts
Advantages: mobile, inexpensive, limited installation, takes up less space
Disadvantages: not able to accommodate a large number of monitors, not as ergonomic
---
Fixed Height Desk -
$$
A fixed height radiology desk allows you to choose the preferred style table and work surface and allows you to add features or accessories easily. You create your configuration for the ideal reading environment. A fixed height desk is an economical and effective solution for PACS reading rooms.
Advantages: unlimited accessories can be added, easily create room configurations with less cost than sit-stand workstations, no electricity required
Disadvantages: not as ergonomic as the height adjustable workstation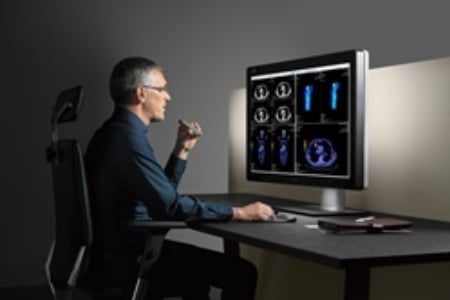 ---
Electric Sit Stand Radiology Workstation -
$$$ Most Popular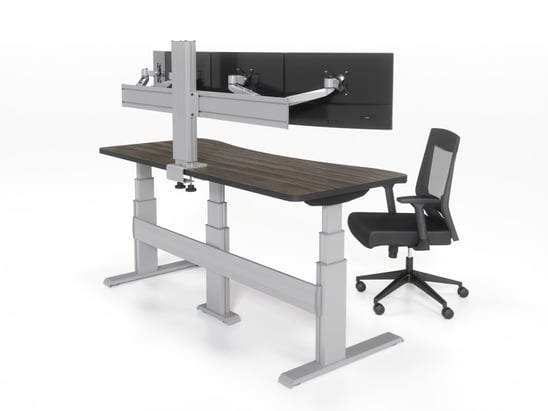 The height adjustable option delivers on the most important reading room feature, which is the comfort of the radiologist.
Changing positions keep radiologists moving, which is more ergonomic. Height adjustable configurations allow quick adjustments between sitting or standing with a simple touch of a button.
When evaluating various sit-stand manufacturers, be sure your desk handles the weight load of many monitors and accessories.
Advantages:
Increased comfort, health, and well being for user
Greater collaboration
Quickly and easily adjust desk height to fit the needs of every user
Can be shared by multiple users
Disadvantages:
Can cost more than other alternatives
Longer installation time
Can potentially have longer desk lead time
---
Best Worksurface for Your Radiology Workstation
Work surfaces come in different shapes: bullet, square, rectangle, L, half-moon, diamond, hexagon, and corner. Before selecting your work surface shape, a radiologist or reading room planner should make sure the shape works well in the workspace.
People working at a desk crammed into an ill-suited space may wind up adopting poor positioning to the poorly fitting desk, which leads to aches and pains. Some desk shapes fit well in corners, while others work better in an open area or against a wall.
Another work surface choice to consider is a multi-level or dual surface with a tilt option. Desks with separate front and back surface areas provide optimal body position and comfort. Some radiologists may prefer one-tier as it provides a larger workspace area.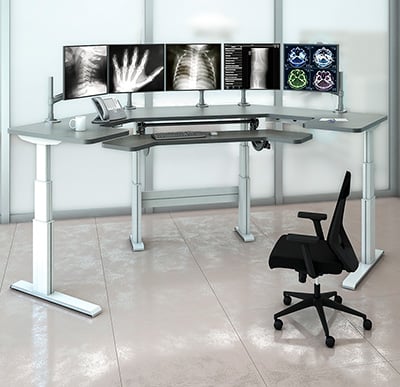 You may also wish to evaluate what your work surface is made when choosing your radiology workstation. You will want to avoid work surface colors that may cause a reflection.
Cable Management Options for a Radiology Desk
Radiology tables typically have many monitors. The problem with many monitors is you also have a cable management nightmare. A box cable management system discreetly secures under your desk and collects your cables and cords in a single, tidy place keeping everything off the floor. After inserting the front shield, your cables are out of sight.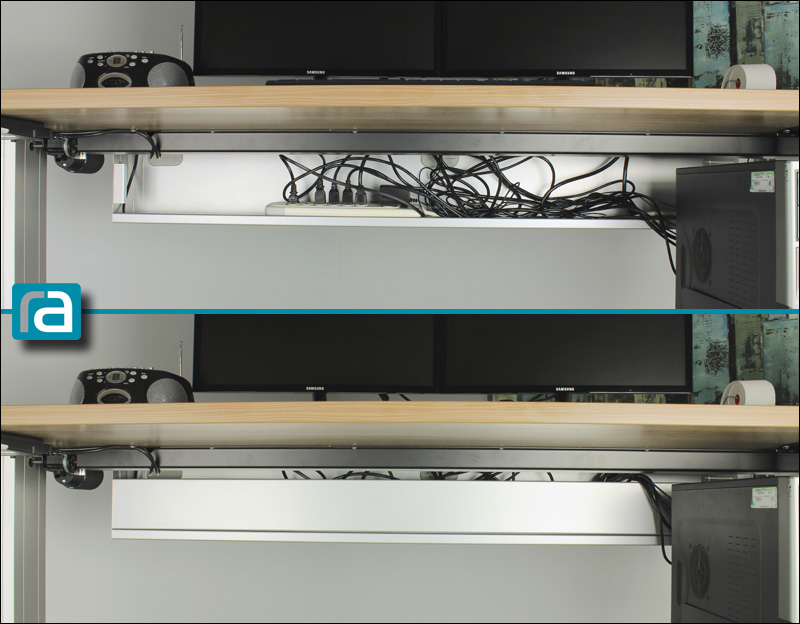 Additional PAC Desk Accessories
Accessories offered to PACS furniture should be considered.
Add-ons and customizations improve workflow and work together seamlessly with
the workstation itself.
Look for desk configurations that accommodate the addition
of the following accessories:
Monitor mounts for multiple imaging displays
Cable management
Height adjustable, programmable
Multi-level worksurface – dual surfaces
CPU storage
Power
USB charging station
Lighting
Choosing the best radiology workstation can be quite the undertaking. Be sure to look into the radiologist needs and involve designers with experience in ergonomics. Choose a manufacturer or rep to help radiologists and administrators assess their needs, create a plan, select the best product suited to their needs, and see it all the way through installation.